The Calligraphy exhibition is extended! 一筆字展延長開放!
Free entrance and donation is welcome.
一筆字展出緣起
星雲大師說:「人人都是佛!」我們不去議論「誰是佛」,但星雲大師至少可以說是一位永不休息的「發心菩薩」!今年九十歲的他,由於四十多年的糖尿病,導致視網膜剝離,合併眼底黃斑部細胞鈣化,雙眼視力模糊,幾乎看不見;平時寫字時,雙手更是不聽使喚的顫抖,但他居然可以用「心眼」寫出一手少人能及的「一筆字」。
所謂「一筆字」,意思是說星雲大師所寫的書法,每一張都是「一筆」到底,不容間斷;因為只要中途停頓,就會看不清、抓不準筆畫而難以下筆,因此他不得不一氣呵成,一揮而就。
在如此艱難情況下,大師仍然經常奮筆揮毫,蘸墨疾書。尤其去年他把自己著作的稿費及版稅所得三千萬元,悉數捐出,成立一個「公益信託星雲大師教育基金」,委由銀行管理財務辦理各項公益活動。
此事獲得信徒支持,目前已募得近億元基金。但星雲大師再發大願心,希望能籌募十億元為目標,讓社會公益活動可以永久持續。因此再度發揮驚人毅力,日夜揮毫,發心為這次書法義賣執筆揮毫,寫就了「我是佛」、「吉祥如意」、「度一切苦厄」、「不忘初心」、「以眾為我」、「百福吉祥」等百幅書法,將舉行多場「書法義賣」,書法義賣之後,將陸續在台灣、美國、歐洲、香港、中國等地,普與社會及佛教人士結緣。而「書法義賣」所得贊助的「公益信託星雲大師教育基金」,為社會公益,淨化人心而努力,如此盛事,祈願有心人能共與之。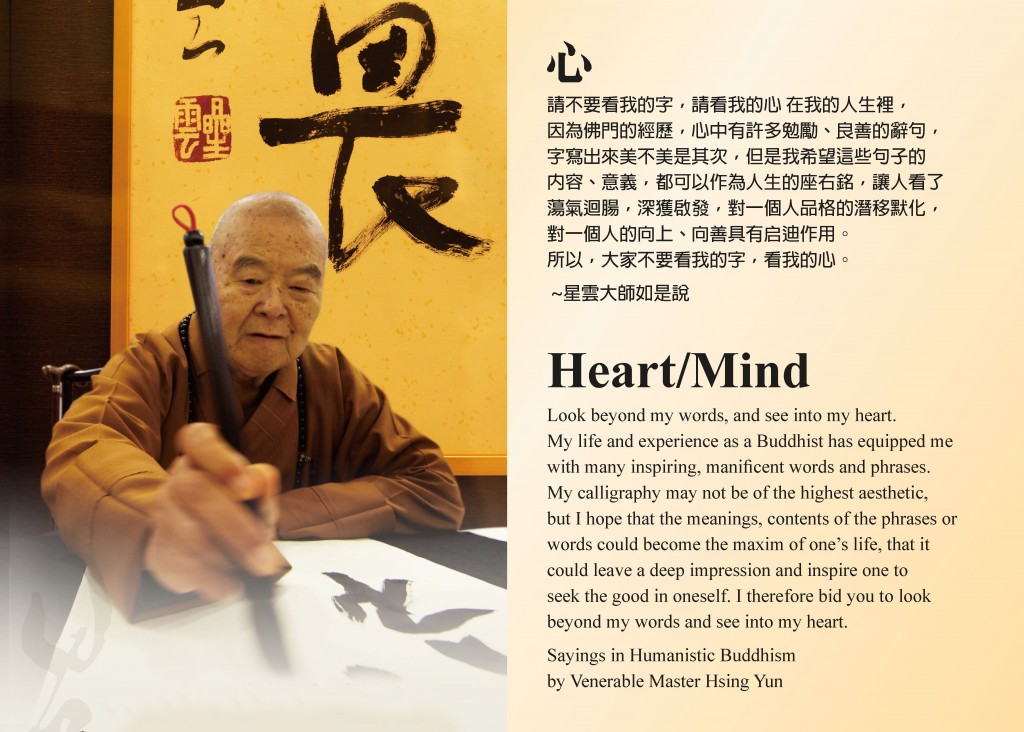 Origin
"Everyone is a Buddha!" said Venerable Master Hsing Yun. Putting aside the question of "who is actually a buddha?" it can at least be said that Venerable Master Hsing Yun is a bodhisattva who never tires. Turning 90 years old this year, he has faced 40 years of diabetes that led to a serious eye condition, along with retinal detachment. With unclear visions in both eyes, he can barely see. Despite having to write calligraphy with shaking hands, he still is able to let his heart guide his hands in completing the extremely rare "one-stroke calligraphy."
"One-stroke calligraphy" means that every piece of calligraphy written by Venerable Master is done in one stroke. No discontinuation is allowed from beginning to end, as any discontinuation will make it difficult to continue to the next character, because his vision does not allow him to distinguish the distance between each character. For this reason, he is forced to complete the whole work in one stroke.
Under such difficult circumstances, Venerable Master still makes efforts to keep his brush moving between ink and paper. Last year, he donated all thirty million NT dollars from the royalty he had received for the books he had written to establish a public benefit trust, entrusting the bank to organize different public welfare activities to benefit society.
This trust fund received support from devotees, and quickly raised almost one hundred million dollars NT. However, in order to continue the fundraising, Venerable Master Hsing Yun makes the one billion NT dollar mark as the new goal. Once again, he exhibits his amazing willpower to keep writing day and night, completing one hundred calligraphy works for this calligraphy charity fundraiser. Among the hundreds of works are "I am a Buddha," "Auspiciousness and Wishes Fulfilled," "Transcend All Types of Sufferings," "Do Not Forget One's Initial Aspirations," "Regard the Multitude as You Regard Yourself," "A Hundred Merits and Auspiciousness." He will be holding a series of calligraphy charity fundraisers and thereafter, travel to Taiwan, United States, Europe, Hong Kong, China and other countries to create good affinity with the public and Buddhists. Proceeds from the calligraphy charity fundraiser will fund the Public Benefit Trust Fund, which will work hard to promote and purify society.
We wish for all those interested in this joyous activity to come participate.